JOAN partners with AV leading distributor Exertis CapTech in Nordic region
Tuesday 12th March 2019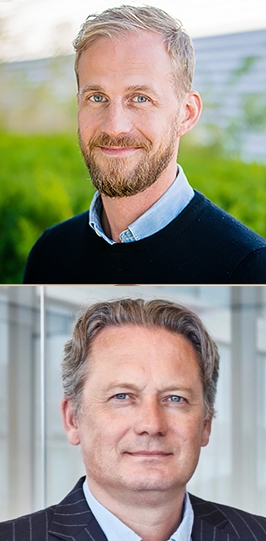 Picture (top) Fredrik Tidemar - Picture (bottom) Lex de Grijs
2019-03-13 Press release JOAN partners with AV leading distributor Exertis CapTech in Nordic region
After signing an exciting distribution agreement, Visionect, the world's premier designer and developer of electronic paper, is proud to announce its latest partnership with the Nordic leading technology and AV distributor, Exertis CapTech.
Fredrik Tidemar, Exertis CapTech, Business Director AV said; "We are greatly excited with this new partnership! The demand of room booking systems is growing every year and represents an extremely important part of the total offering of solutions into meeting rooms, within all environments. JOAN is the leading brand with an excellent market awareness worldwide and we are confident to significant grow the business in the Nordic region. Their clear focus and uncomplicated products that supports all various platforms will be a perfect complement to our existing portfolio in this category." Lex de Grijs, Director Western Europe for JOAN said; "We are delighted to be partnering with Exertis CapTech in the Nordic region covering Denmark, Norway, Sweden & Finland. Their specialist Pro AV Solutions division works with both AV specialists and IT resellers that are providing more productive workplaces for companies. Progressive companies are at the forefront of the next-gen work space and are taking advantages of the changes: better working conditions, less stress, better meetings, optimized costs, better utilization of workplace assets, and much more. JOAN saves organisations countless lost hours and frustrations by providing a room booking system that looks professional, yet is easy to install and use." Suitable for all sectors ranging from corporate to education and government, Joan provides an easy solution that seamlessly integrates with all the major existing calendar applications* via Wi-Fi, improving the way people use meeting spaces with a real-time schedule to show room availability. The digital display can be customised and branded with company images. In addition, with JOAN analytics, companies can make informed decisions on meeting room usage to utilise space better, reduce estate costs and enhance productivity. * JOAN supports G Suite (Google Apps, Google Calendar), Office 365, Microsoft Exchange 2010+ (Outlook), iCalendar (.ics) or CollegeNET 25Live. About Exertis CapTech Exertis CapTech is one of the Nordic region's largest distributors of IT hardware, AV products, Entertainment (movies, books, games & toys) and one of the largest PC manufacturers in the Nordics. The company has its warehouse and head office in Gothenburg with local offices in Stockholm, Helsingborg and Umeå in Sweden, Sandefjord in Norway, Helsinki and Tampere in Finland and Copenhagen in Denmark. Sales amounted to more than SEK 2 billion in 2018. The company is currently collaborating with more than 250 suppliers and more than 4000 retailers across the Nordic region. Since 2014, the company is part of Exertis Group, one of Europe's largest distributors with a turnover of SEK 30 billion. About Visionect Visionect is a worldwide leader in design and development of ultra-low power digital display solutions. Fueled by cutting-edge innovation and years of field-tested deployments, we are changing the way information is being delivered, leading the global revolution with greener and better displays. The company was founded in 2007 by brothers Matej and Rok Zalar along with Luka Birsa. Over the span of 11 years the company grew steadily, but it's most recently that Visionect almost doubled in size (from 34 employees in mid-2017 to 65 currently), becoming a worldwide leader in the sector. Visionect fostered its electronic paper expertise by developing it further in partnership with leading industry players like Microsoft, Epson and E-Ink to create cutting-edge signage technology for several application cases: from traffic signs and public transportation info boards to signage serving the retail, hospitality, healthcare, education and finance industries. For more information: Exertis CapTech Tobias Wallster, Product Manager Nordic tobias.wallster@exertis.se +46 76-168 57 00 Visionect Federico Ercoli, PR Manager federico.ercoli@visionect.com +386 040 604 269
Sveriges största branschmässa för återförsäljare.
9 november, Eriksbergshallen Göteborg.
Läs mer
Exertis stöttar CBRE & PLAN i Sierra Leone
Se filmen om seglingen som samlade in pengar för att hjälpa 135 000 barn.